Self-portrait photography will challenge your technical skills and your creativity!
The word selfie didn't become part of our cultural lexicon until sometime in 2013. But self-portrait photography has been around almost as long as photography itself. Robert Cornelius used his camera in the back of his family's store to take his own portrait as early as 1830.
Here we are, 180 years later and it's still hard to get a great self-portrait. But with our five techniques outlined below, you can up your selfie game. Start taking self-portraits that leave your fellow photographers and followers asking which photog you used for pictures!
I think we can all agree that there are entirely too many selfies floating around online right now. They can easily be overdone. I mean, no one needs to see 352 vacay selfies of you in an hour.
But there are some legitimate reasons a photographer might need a portrait of themselves, such as:
About me or other web pages
Profile picture for social media accounts
Social media posts
Speaking engagement promotional picture
Awards picture
Tutorials you are writing
To demonstrate something
Family pictures
Yes, you could use a quick cell phone picture. But if you need a self-portrait for professional reasons, it stands to reason it should be a professional photo. If you don't want to, or for some reason can't hire a professional photographer for your images, the information below can help you nail your own portraits and avoid any self-inflicted portrait pain.
[ad id='3′]
How to take self-portraits
Method #1 – The Mirror
Social media influencers like the Kardashian sisters may have made this method popular, but it certainly isn't a new idea. The first mirror selfie was created in 1918 by an Austrian general by the name of Thomas Baker.
This technique is pretty self-explanatory. But remember, if you're using this to promote your professional photography business, the bathroom probably isn't the most professional of settings. Just saying.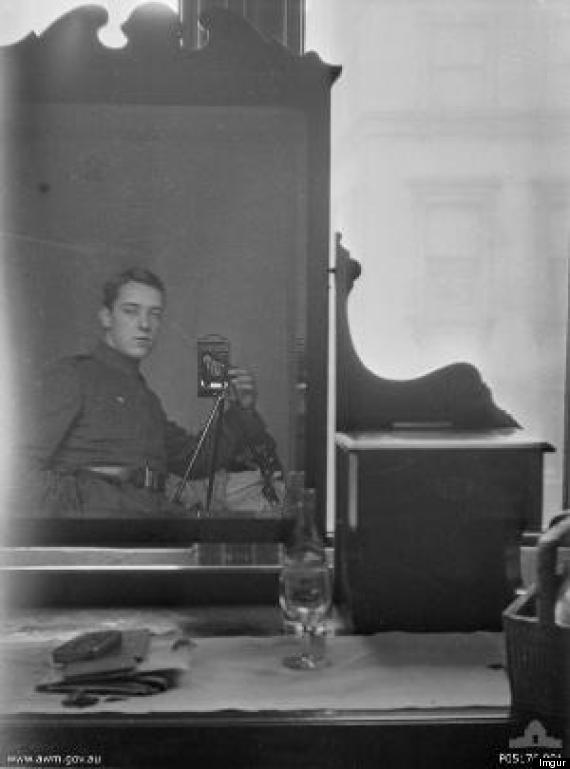 Method #2 – The Press and Hold
I wasted more than a few frames on my mom's Kodak 600 disc camera back in the day with this method. It's an oldie, if not always a goodie.
Hold your camera in one hand with the lens pointed toward you. Fire the shutter at will.
Three tips for this method, though. First, let the camera find and set focus. It's hard to lock in focus using single-point focus when you can't see the back of your camera. Second, turn off back-button focusing. It's much easier to keep your camera steady if you aren't trying to hold down the back button and press the shutter one-handed and backward. And finally, use a lens with a shorter minimum focal length but wide enough to get you in the frame. A 24mm or 35mm usually does the trick.
Method #3 – Time and Run
Another throwback technique here! Put your camera on a tripod or use another rest, like a table or beanbags. Compose and focus your shot. Then put your camera in timer mode. Fire the shutter and run into your shot. Hey, if it worked for ol' Robert Cornelius, it can work for you!
Be sure to give yourself a clear path to your spot. Look out for camera bags on the ground or sharp corners on furniture. And watch those tripod legs! I may or may not have cratered a point-and-shoot camera this way.
Most cameras have several different durations of the timer. If the shutter is firing before you can make it into the shot, change the duration of the self-time mode!

Method #4 – Use a remote
If you aren't the fleetest of foot, a remote is a great idea. Choose from a wireless trigger remote, or a corded trigger release cable. If you're using a corded trigger, just make sure it's out of frame.
Like the time and run method, you'll compose your shot first. Then step into your shot and use the trigger to fire the shutter.
Method #5 – Use an app
Some cameras now work in conjunction with an app you can use on your smartphone. For this method, you'll need a camera that's enabled with Wifi. But lots of models these days are Wifi enabled.
The app on the phone lets you see what your camera is seeing in real-time. This lets you set focus and fire the trigger, all from the same app. It's a really easy way to know exactly what your self-portrait will look like before you hit the shutter.
Try Canon's Camera Connect app (iOS, Android) or Nikon's Wireless Mobile Utility (iOS, Android).
Want other photography app ideas? Read our tutorial!
Method #6 – Timelapse selfie
If your camera is equipped with a time-lapse feature, try using it to fire the trigger several times over the course of a few minutes. You can set your camera to fire frames every few seconds, giving you time to compose yourself or change up poses between shots. Just try not to shift your pose so much you move out of the focal plane. This is also a great technique if you want to be in the picture for an event like Christmas morning or a birthday party.
The hardest part about self-portraits? Nailing focus!
Achieving the perfect focus in self-portrait photography is hard. I've shot too many frames expecting awesomeness only to find my mug is ridiculously out of focus. A few ideas to help you improve focus of your next self-portrait!
Tips for nailing focus
Use a narrower aperture to get a greater depth of field (f/4, f/5.6 even f/8). That way, if you haven't gotten focus exactly right, you give yourself a little leeway!
If it's a group self-portrait, set focus as you would any other group. Remember, your depth-of-field is 1/3 in front of your focal point and 2/3s behind it. Once you have focus how you like, turn your auto-focus off. Then fire the time (see Method #3 above). That way your camera won't grab focus where you don't want it to.
Focus on something in the frame that's close to the plane where your face will be, then turn off focus. I will place a gray card on a light stand and use that for my focal point. Then I turn off autofocus, step into my shot putting my face where the gray card was and setting the stand just out of frame.
Use an app to set focus from your phone. This is a little harder than it sounds because if you're looking down at your phone, the planes of your face change. And if you're using off-camera flash in a darkened studio, your app might have hard time in low light. Try using a strobe with a modeling light to help the camera and app see and find focus.

12 Creative Ideas for Self-Portraits
Self-portrait photography doesn't have to look amateur. Or boring. You are limited only by your imagination and creativity! So how can you amp up the wow factor of your self-portrait?
Use different lighting techniques.
Nothing says dramatic selfie like using some Rembrandt lighting or split lighting to add shadows, depth, and dimension.
Click here for our tutorial on Rembrandt lighting.
Take an action photo!
Self-portraits don't have to be static. Set your camera up to capture you doing an activity you love like dancing, running, playing with your dog, or painting!
Use your hands and body to add interest.
What direction would you give someone in a headshot or senior photo session? Use those same ideas to create more dynamic self-portraits!
Don't show your face.
Yes, when we think of a portrait we think of faces. But that's a rule begging to be broken. Focus on details. Highlight your eyes, mouth, chin, hands or toes. Test your creativity and demonstrate your personality without showing your face.
Bring a friend.
Self-portraits don't have to be solo portraits. Take one of you and your BFF or significant other or kids. They can also include pets!
Turn sideways.
Play with different silhouettes. Try photographing your profile in well-lit or backlit conditions. Work the sun or use flash in your studio. There are so many different ways to use this technique!
Work different angles and focal lengths.
Who says it needs to be a head-and-shoulders image shot straight on? Not this girl. Get low and shoot up to create a sense of power. Get high and shoot down. The same scene shot from different angles can tell a widely different story.
Go black and white.
Challenge your creativity by creating a self-portrait optimized for black and white.
Play with wigs, costumes, props, or makeup.
Go glam like Garbo or get your dark and moody on like Underworld. Get inspired by your favorite movie, tv show or season. The photo below by Valerie Schmit used Beauty and the Beast as her inspiration!
Recreate a famous photo or a photo from your past.
In the photo below, Megan of Megan Kubasch Photography recreated a photo of her grandmother as her selfie!
Try a diptych or triptych to tell a story
Use self-portrait photography to tell a more complete story. Diptychs and triptychs use two or three photos, respectively, to tell a story. For example, a diptych might feature one photo of your head and shoulders and another of just your eyes. A triptych could show you making three different silly faces, or show movement capturing you at three different points in the perfect pirouette. The trick is to present them together as a single image so they all tell a story.
Use different backgrounds to add texture, interest, or context.
These could be standard photography backgrounds, interesting cloth or backgrounds found outside. A self-portrait taken in your office with you in yoga pants and a messy bun conveys a much different vibe than a self-portrait of you in a cashmere sweater and button-down shirt in front of a gray background. What you do you want to convey to your audience?
Use a mirror.
This technique can be really cool if you work at it a little instead of just you, a smart phone and the nearest bathroom.
How to take better selfies on your phone
There's no reason you can't improve ANY selfie you take, including the ones on your phone. Self-portrait photography has exploded with the invention of smartphones, after all. Here are some tips for taking better selfies at the spur of the moment with your smartphone!
Try these tips:
Find good light. Hold your camera up like you are going to take a selfie. Then slowly turn in a circle to find the most flattering light. Look for soft window light, soft shade from trees or buildings or away from harsh overhead lighting.
Eliminate distractions in the background. Again the world doesn't want to see your toilet or pile of dirty underwear on the floor. Check to see what else will appear in your shot before you snap the picture. Sometimes just shifting a foot in either direction makes for a cleaner composition.
Use the timer. I find that the extra three or five seconds the self-timer mode gives me helps me get composed before the shutter fires.
Use flattering angles. Hold the phone at eye level or slightly above. Look up to the phone and elongate your neck by pushing your chin toward your phone. Don't push your chin up, but forward. Think of how a turtle sticks its neck out of a shell. Or try holding your phone slightly to your side and down just a little. Move your head from side to side slightly to alter the look or catch the light on different parts of your face.
Downplay the size of something by getting it further away from the lens. Anything closer to the camera will appear larger. So if you want that something to appear smaller, create some distance between it and the lens.
Look at the lens or off in the distance. But don't stare at the center of your phone screen.
Have fun! Remember you're saving a memory not necessarily creating art.
Self-portrait photography doesn't have to be lame. Or boring. Or predictable. Selfies can be serious. Fun. Whimsical. Inventive. You can take them in 100 different ways and use them 100 different ways. You really are only limited by your own creativity and patience.
The next time you need a self-portrait and aren't sure what to do, use this guide for inspiration and direction and you'll be on your way to self-portrait photography perfection!