Almost every photographer I know, even those specializing in portraits or action photography, has a soft spot for landscapes.  There's just something about nature and sunsets and vistas that captures our imagination and prompts creativity.  Even if you just dabble in landscape images, you'll want a lens to help translate that vision before you into a stunning image. 
But what kind of lens do you need or want?  What are the best lenses for landscape photography for you?  We'll help you choose the best lenses for landscape photography with this buyer's guide.
Recommended Lenses for Landscape Photography
The first lens most landscape lovers reach for is a wide angle lens.  But the best landscape photographers have lenses of all different focal lengths in their bag so they can capture the scene as they want to.  Before we dive into the recommendations for the best lenses for landscape photography, let's cover some lens basics!
Standard lens
A standard lens is a lens in the 18-70mm range.  Most beginner cameras come with an 18-55mm lens as part of the "kit."  These are versatile, inexpensive lenses that are a great tool to get started in landscape photography.  Don't feel like you need to rush out and buy a brand new lens.  Use what you have and when your lens is the limiting factor in your growth, you'll know!
Other popular standard lenses are the 24-70mm zoom lens.  These lenses are faster lenses with improved glass that are popular with wedding and event photographers.
Telephoto Lens
A telephoto lens has a focal length of 85mm or longer.  These lenses pull the scene closer to you.  They are helpful for taking faraway shots of specific images on the landscape such as a tree, cabin, mountain peak, or rock formation.  They help you create more intimate scenes and demonstrate a sense of scale.
Wide Angle Lens and Ultra Wide Angle Lens
Wide angle and ultra wide angle lenses have a focal length of 35mm or wider.  These are best suited for capturing a wide area in a scene.  They are great because you can take in a really wide view and give your audience a sense of what the scene looks like on a grand scale.  These are the most popular lenses for landscape photography.
Prime Lens
A prime is any lens that has a fixed focal length.  You'll have to "zoom with your feet," because you can't change the focal length without physically moving your shooting location.  But these make great landscape lenses because of their quality and sharpness.  If you have a prime you love for portraits, give it a try for landscapes, too.
What Makes a Great Landscape Photography Lens?
Why did the models below make a list of best landscape photography lens?  They all have a few important qualities.  Keep these in mind as you select future equipment.
Focal Length
We covered the types of focal lengths above.  But why are they important?  First, the focal length determines how much of your landscape and scene you can include in the image. 
Telephotos have a narrower field of view than a wide angle lens.  But focal length can also affect depth of field, or how much of your scene is in sharp focus from front to back. 
Wide and ultra-wide angle versions give you longer depths of field.  Telephotos, on the other hand, compress your scene from front to back and can help isolate your subject.  Wider angle lenses also provide more 
Choosing the Right Focal Length for Landscape Photography
Choosing the best focal length depends on your landscape photography goals and what other lenses you already own.  If you prefer big open images with lots of scene included, go for a wide angle or ultra wide angle focal length.  If you like focusing on details and tighter compositions, consider a standard or telephoto lens.
Aperture
Aperture controls how much light is coming into your scene and your depth of field.  Look for a lens with a fixed aperture instead of a variable aperture.  It will give you more consistency when shooting and lets you shoot in conditions with less light.  Lenses with apertures of f4, f2.8, f1.8 or f1.4 will give you plenty of light to work with.

The tradeoff of wide apertures is often cost and size.  Lenses landscape photography with f1.4 apertures tend to be big and expensive.  Only you can prioritize your needs and decide if you'd rather have a smaller, lighter, less expensive lens or if a faster, sharper lens that weights four times as much is the est lens for you.
Autofocus
Always check to make sure your lens's autofocus will be compatible with your camera.  Yes, you can use manual focus but I find most of the time I prefer autofocus, especially when shooting handheld.  And as my eyes age, my AF is more reliable than my own vision.  
Weather Sealing
Some lenses are built to withstand the elements.  Others aren't.  Weather sealing keeps moisture, dust, and other undesirables out of your lens.  If you are going to be in the wet and the yuk, choosing a lens that is weather sealed or weather-resistant can be a great investment.
These lenses landscape photography are also built a little more ruggedly and are made to stand up to even the most rugged landscape.
Image Stabilization/Vibration Reduction
Image stabilization compensates for camera shake and allows you to use slower shutter speeds than you could without the technology.  This feature isn't a must have, but it can be really helpful, especially with heavy lenses or telephoto lenses landscape photography.
It helps when shooting handheld, when the wind is blowing, and when you're shooting from a vibrating platform (such as a boat or vibrating bridge).  The best landscape lens for for you might need this feature!
Weight and Size
Finally, be sure to consider the weight and size of your lens.  If you want to travel fast and light because you're carrying all this gear on your back for miles on end, you might choose a different lens than someone who simply drives to their location, gets out and shoots.
Other Considerations
Sensor size
If you shoot with a crop-sensor camera, your field of view is different than someone shooting landscape photography with a full-frame camera.  You'll need to think about how the crop factor of your camera will affect the working focal length of a lens you purchase.
For example, a 24mm f2 lens is actually a 36mm f2  on my Nikon D500 crop-sensor.  Always remember your sensor size when choosing your best landscape lens.
And while you can use most full-frame lenses landscape photography on crop-sensor bodies, you aren't really getting the maximum benefit out of that lens.  Don't pay more for features you can't use even for the best lens landscape!  
Compatibility
Always check to make sure the landscape photography lens you are considering is compatible with your camera body.  Nikon, Canon, Sony, etc., have proprietary lenses for landscape photography.   You can't use a Nikon lens on a Canon body, for example, without an adaptor (and even then with limited success). 

Some manufacturers such as Tamron and Sigma offer third-party lenses for landscape photography built for specific brands.  If you're interested in a Tamron lens for your Canon body, make sure you buy the version built specifically for Canon.
And finally, mirrorless lenses for landscape photography don't work on DSLR camera bodies.  Make sure your lens is built for your camera!
Price and Use
Finally, you'll have to decide if the price of the equipment is worth the use you'll get out of it.  Just because we've labeled these as the best doesn't mean they are right for you!  Don't break the bank on a lens you'll only use occasionally or can't truly afford!
Best Nikon Lenses for Landscape Photography
This standard lens is small, light-weight, and inexpensive.  It's easy to throw in your bag because it doesn't take up much room and gives you glass that can take some really great landscape shots.  This is sharp and can take a pretty good beating and the bokeh at 1.8 is really great.
Be prepared to use your feet more to compose your shots.  This focal length will make you be creative and challenge you to see a scene differently.  There's nothing fancy about this lens.  No vibration reduction or focus limiting switches.  Just a nifty little lens that fits in anyone's budget!  Cost – around $200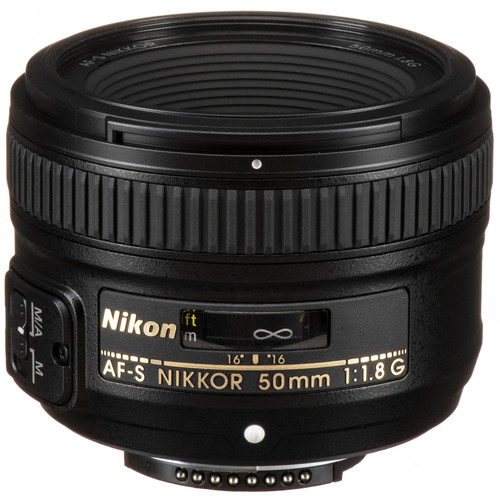 This wide angle lens is a favorite lens of landscape photographers for a reason…it's sharp, sharp, SHARP!  It has great sharpness throughout its range and minimal distortion, even at the 14mm focal length. Landscape pros rely on this lens for a reason…it's that good! The only downfall is the price. This lens costs around $1,800 new.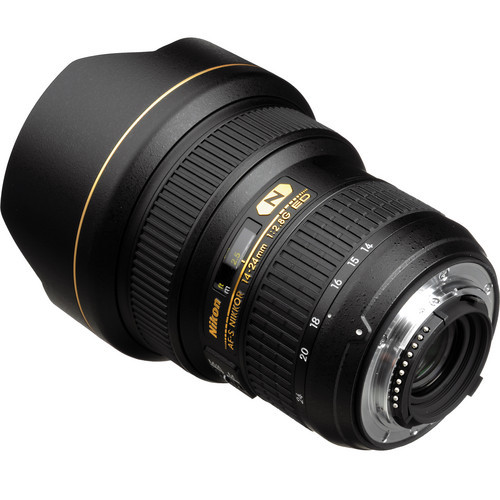 Nikon 24-70mm f2.8 ED AF-S
This wide angle to standard length lens is one of Nikon's flagship offerings for a reason…it's just a fantastic lens.  The versatility of the zoom is really helpful in landscape situations, and the bokeh, contrast and color is beautiful.  It performs great in low light and is just flat sharp.  This lens comes in two versions, one with vibration reduction and one without, so you can choose which best fits your needs.  This lens is also a fabulous portrait and event lens, so if you want something versatile that will serve multiple disciplines, this is for you!  Cost – around $1900.  
Nikon 24-120mm f/4g ED VR
I call this the "cauliflower" of lenses for landscape photography.  It looks ugly and clunky, but it's pretty good for you!  I love that I can throw this on my camera and be set for everything from wide angle landscape shots to close up telephotos.  It also has vibration reduction, giving you 3-4 additional stops than you would have shooting handheld.
The bokeh isn't as great as with the 24-70mm f2.8 version, but it is also more affordable at about half the price.  This is what I travel with because it's versatile and I know I can shoot a lot of different situations with a single lens!  Cost – around $1,000
Nikon 70-200mm f/2.8G ED VR II
The Nikon 70-200 f/2.8 ED VR II is a lens every photographer should own and one that rarely leaves my bag.  It can't give you a wide view, but it's a great telephoto for landscapes. 
It allows you to create some up close and creative compositions and is a great idea for photographers who enjoy a mix of landscape and wildlife photos.  It's pricey but the quality is top-notch and you won't ever regret having it in your kit.  Cost – around $2,000
Want to improve your landscape photography? Check out our Landscape Photography A-Z course and learn more about equipment and technique and create stunning vistas like never before!
Best Canon Lenses for Landscape Photography
Canon EF 16-35mm f/2.8L III USM or Canon 
This wide angle lens covers a great range of focal lengths for landscape photographers.  It's one of the most popular zooms of the genre and a favorite of most Canon landscape photographers because it's fast, sharp, versatile and the color and contrast from this lens is stunning. Like the Nikon 14-24mm lens, however, it's a big investment. Cost is around $2,200.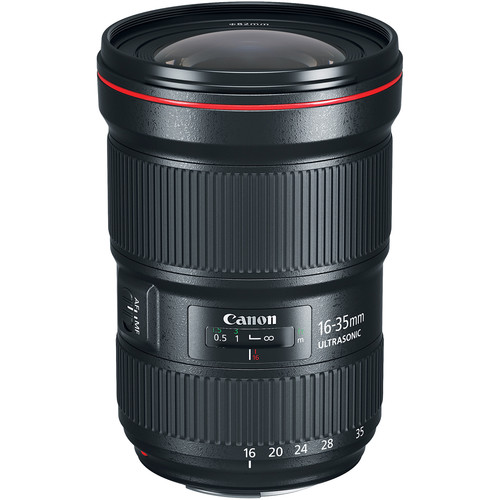 Canon EF-S 10-18mm f/4.5-5.6 IS STM
This ultra wide zoom lens is one of the smallest, lightest and least expensive Canon offers.  It has a variable aperture, but is great for playing with perspectives and getting a really wide view or getting really close to your subject.  If you want an introductory landscape photography lens that won't break the bank, give this one a try!
Canon EF 100-400mm f/4.5-5.6L IS II USM
Sometimes 200mm of focal length just isn't enough.  Enter this 100-400mm.  It gives you a tremendous amount of reach for up close landscape compositions.  It also has top-notch image stabilization, meaning you can hand-hold at lower shutter speeds with great results!  It is incredibly lightweight for its focal length but a beast in all the other ways!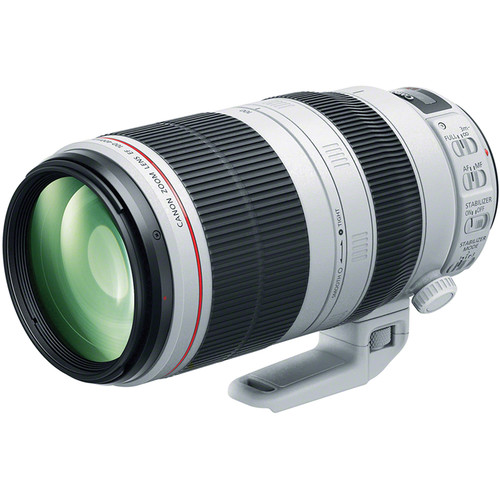 Other best landscape lenses Canon makes: 
Best Lenses for Landscape Photography by Sony
Sony 10-18mm f/4 G OSS (APS-C)
Sony users, we haven't forgotten about you!  This landscape photography lens is the widest zoom made by Sony for APS-C cameras.  It's a wide angle version that is small, sharp and a great companion for any photographer that likes to travel light and have a small footprint.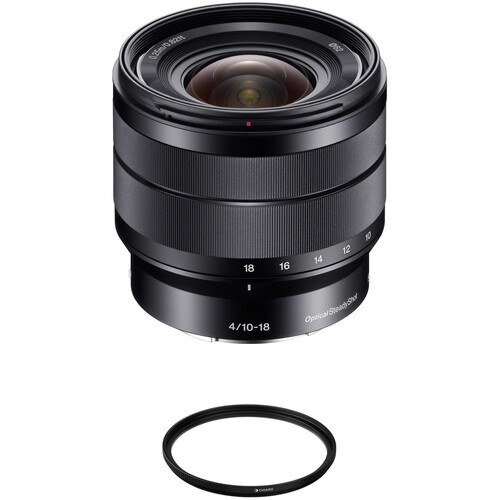 Sony 70-200mm f/4 G OSS
Sony also makes a great 70-200mm landscape photography lens.  This f4 isn't going to give you the shallow depth of field of an f2.8 version, but it does have great compression and will let you hone in on small details and tight compositions.
Sony 35mm f2.8 ZA
Another landscape photography lens you won't go wrong with is a 35mm!  It's also small, light and ultra fast, allowing you to capture stunning landscape photography and travel fast and light.
Other Sony lenses  for Landscape Photography
Best Sigma Lenses for Landscape Photography
There was a time where third party lenses were less than desirable for landscape photography.  When I worked at our student newspaper in college, woe was the photographer left with the cheap Sigma or Tamron 35mm.  But in the last decade or so, Sigma and Tamron have not only closed the gap with their Canon and Nikon counterparts, they've surpassed them in some areas.
If you're looking for a great landscape photography lens but also want to save some money, give these Sigma versions a try.  The Art series is a personal favorite and trusted by many portrait and landscape photographers alike.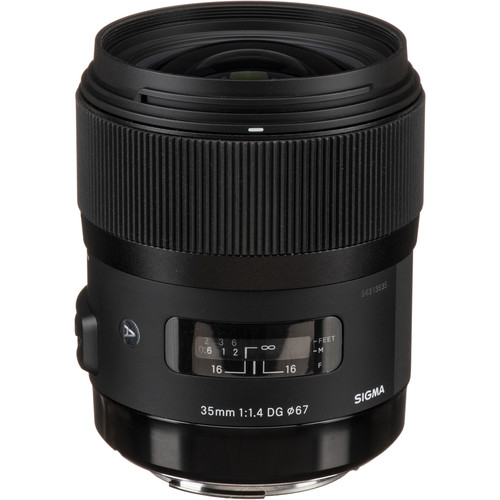 A Few More Landscape Photography Favorites
Sometimes, you'll find a landscape photography lens that is everything you want even if it's not one of the most popular recommendations for the genre.  One of my favorite landscape photography lenses, for example, is a Nikon 24mm f/2 lens because it's so small, sharp and light. 
You won't find it on any must-have lists, but it's small profile and price tag were exactly what I needed when I first started getting serious about photography.  Others might have a bigger budget and want nothing but the absolute best glass or have a specialty camera and need a matching lens.
Here are some other great lenses to consider adding to your landscape photography kit.  Be sure to check the compatibility with your camera.
Conclusion
Finding the "best" landscape photography lens is a bit of a personal journey.  It depends on your shooting landscape photography style, budget, experience, camera brand, and sensor size. 
My best advice is to identify your priorities and needs, then find the best lens that meets those needs AND fits your budget.  And most importantly, it should be a lens that gets used!
The best lens for landscape photography is one you can afford and will use regularly to improve your craft.  So grab your landscape photography lens, your camera and get out there and enjoy landscape photography in your favorite places!