Need help understanding autofocus modes?  We can help!
One of the questions that I get asked the most is how can I get sharper photos? It's a tough question to give a specific answer for because there can be lots of reasons why your photos aren't sharp. But sometimes, it's simply a result of not understanding autofocus modes and using them correctly.
Understanding the differences between different autofocus modes might not be at the top of your list when you first get your camera.  But understanding what the different modes are and more importantly – when to use the different autofocus modes, is critical for long-term photography success.
So let's get you right up to speed so you can have the confidence of choosing and using the correct autofocus modes.
What are autofocus modes?
First things first.  What the heck are autofocus modes?
On most modern digital cameras, you can choose where and when to focus.  This is known as manual focusing.  Or you can let the camera choose where and how to focus (with a little guidance for you).  That's what we call autofocusing.
You can also give the camera sideboards on how autofocus.  Those rules are the autofocusing modes.  Most cameras have two different kinds of autofocusing modes, single and continuous.  The terminology varies by camera manufacturer, but the concepts are the same.
You can also control where the camera autofocuses by choosing your focal point.  We'll talk about autofocus modes and focal points below.
What autofocus mode should I choose?  Single vs Continuous Autofocus

Single Area Autofocus modes (Nikon: AF-S / Canon: One Shot AF)
In single area autofocus, once you lock focus on your subject the camera will not retain focus if your subject moves.  That means if you compose your image, press the shutter halfway down and gain focus, your focal point will stay in that position until you press the shutter halfway again EVEN if your subject moves.
Single area autofocus is great for taking images of stationary objects, or in low-light conditions, or if you use the focus and recompose technique.  It also uses less battery because the camera isn't constantly making micro adjustments to the focus.
Single area autofocus mode works great for portraits of adults or teens, still lifes or product photography work.
If your subject is on the go, however, you'll want to use continuous autofocus mode.
Continuous Autofocus modes (Nikon: Continuous AF-C / Canon: AI Servo)
In continuous autofocus mode, once you lock focus on a moving subject the camera will do its best to follow your subject keeping them in focus.  The camera detects the movement of your subject and refocuses constantly to keep it in focus as long as you are pressing the shutter halfway.
Continuous autofocus is great for capturing moving subjects like sports, animals or pets on the go, or even people.  We generally recommend using continuous focus when shooting families with wiggly toddlers!
The drawback of continuous focus is it uses more battery and the camera doesn't always predict the movement of your subject correctly.  And how fast and accurately your camera grabs focus on the subject is influenced by the lens.  So you might still get some blur.  But your chances of nailing focus on moving subjects is better with continuous autofocus mode.
Automatic autofocus modes (Nikon: AF-A  / Canon: AI Focus AF
In this mode, the camera decides if the subject is moving or not and will alternate between single focus and continuous focus.  This mode often works well, but letting the camera make the decision might not yield the results YOU were looking for!
For the best results, choose between single area and continuous mode so you are making the decisions!
What is focus tracking with lock-on?
One additional feature your camera might offer is focus tracking with lock-on.  This feature tells your camera how to handle adjusting focus if something comes between the camera and the subject where you've got your focus point.
For example, if you're shooting a basketball game and are focusing on a player but the ref runs between you and the player.  How would your camera handle keeping or changing focus?  Focus tracking with lock-on lets you select the length of time that your camera will ignore an intruding object that blocks your subject.
This is a good feature to experiment with if you shoot a lot of moving subjects.  If you find it makes your camera feel sluggish grabbing new focus points, you can always turn it off entirely.  You can be the judge of how useful this technology is and at what threshold it best serves you.
How the Photographer/Camera Chooses Autofocus Points
Autofocus points are different from auto-focus modes.  Autofocus points are the points in your composition where the camera will try to grab focus.  When you are looking through your viewfinder and press the shutter halfway, you'll see a little small black or red square (in some cameras it may be a dot) floating in your image.  That's the focal point and that's where your camera will focus for the image.
Your camera has different autofocus point modes.  You can use a single point, a group of points or you can let the camera choose a point for you.
Single Point AF Area Mode
In single point AF area mode, you pick a single autofocus point to focus on your subject with. The camera only uses 1 focus point in this mode.
This mode is great for portraits, macro images or other stationary objects and gives you the most control over your autofocus point.  You can use single point AF area mode with both single area autofocus and continuous focus mode.
To select different focal points, use the round toggle switch on the back of your camera to move through the different focal points.  This technique can take some practice.  You need to build up muscle memory to do it quickly, but with time and repetition, the motion will feel like second nature to you.
Dynamic AF Area Mode
With dynamic AF area mode, you are still able to be in control and choose the focus point.  However, the camera uses a larger area to retain focus if your subject moves.  This mode only works in continuous autofocus mode.
Auto Area AF
When using auto-area AF mode, the camera is analyzing the scene and choosing which subject to focus on.  It can be helpful because you aren't having to manually select a specific focal point in every shot.  But the camera can choose the wrong subject or wrong part of the subject to focus on.
The only time it makes sense to use this mode is if you can't look through the viewfinder to accurately pick the focus point or if you just want to be able to point and shoot.  Some cameras auto area AF modes are better than others.  Sony camera lovers rave about the Sony AF system, for example, because it does a great job of locking on eyes in an image.

Auto Area Autofocus was used on this photo since we were holding the camera out aimed back at us for a quick self portrait and couldn't look through viewfinder.
Autofocus point configurations
If you've ever shopped for a camera, one of the specifications commonly listed is autofocus points.  Different cameras offer different numbers of autofocus points and different configurations of autofocus points.  You can choose a configuration that fits your shooting style and preferences.  Fewer autofocus points in a configuration means fewer options for composition but it also means you can toggle to your intended focal point more quickly.  More autofocus points give you more options but can slow you down finding the focus point you really want.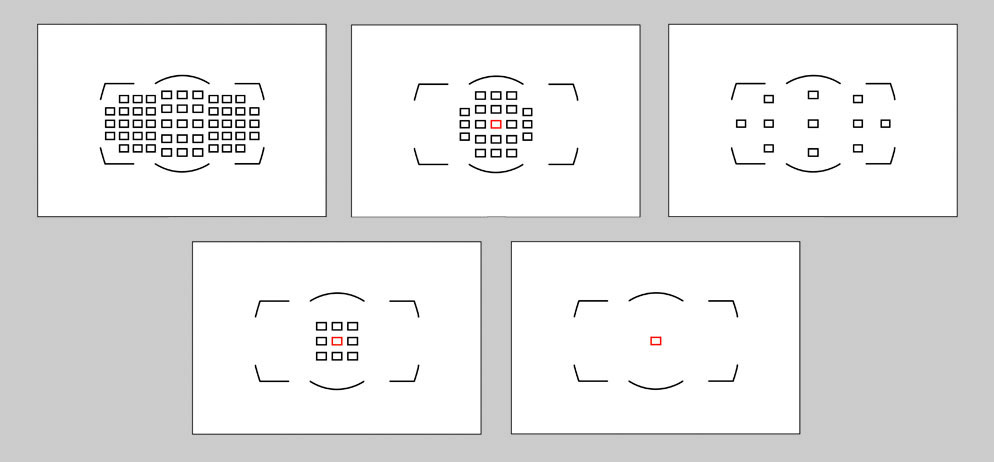 Why is it Necessary to Manually Choose the AF Point?
Today's cameras are pretty "smart" but they still are unable to know exactly where you want to focus.  Autofocus modules today use contrast or phase detection to guess where to focus and when you have numerous objects in the frame, there is a good chance that your camera will by mistake, choose to focus on something other than your intended subject.  If you are using fast prime lenses and shooting at wide apertures like f/1.8 any missed focus of the camera will be easily to see and the shot will be unusable.  The key is simply to always choose the autofocus point and take control and tell the camera exactly what you want in focus.  If you are taking a portrait – focus on the eyes.

Top Photo: This is NOT the autofocus mode you'd want to use for a portrait – the camera can focus on the shirt, a hand, the chin, anywhere it chooses, unless you specifically choose to focus on the eye as shown in the bottom photo.
I use back button focus.  Does that affect what autofocus mode I need?
Back button focus, or assigning a button the back of your camera to act as the shutter, is a great option that lots of photographers swear by.  Click here for our explanation of BBF and why you use it.
Everything we've discussed today regarding autofocus modes and autofocus points is true, whether you use back button focus OR a traditional shutter.
I've been told I need to learn manual mode.  Can I use AF in manual mode?
Manual focus and manual mode are two different concepts.  It can be tricky to separate them in your mind, though.
Yes, you can use AF in manual mode.  In manual mode, you are telling the camera what shutter speed, aperture and ISO to use.  It has nothing to do with focus.  You can use any focus mode you'd like in manual mode: manual focus, single AF, continuous AF or Auto Area AF.
If you are shooting the camera in automatic mode, the camera is controlling the focus mode, focus points AND shutter speed, aperture and ISO.  The camera is making all the decisions.
Key Takeaway – Autofocus Modes
It is always a best practice to take control of your camera and always use Single-Point or Dynamic AF Area mode and use the thumb pad to manually select which specific autofocus point to use to ensure properly focused photos.  Use Single-Area for portraits and still objects and use Continuous AF for moving objects.  Only use auto area focus in very specific exceptions that require it.
As always, I hope this quick read has been helpful to you!  If you want more photography technical tips, head over to the "behind the lens" section right here.
Chat soon!
Cole